Within hours of knowing the assumption of Gabriel Rubinstein as Secretary of Economic Programming, came to light publications old and not so old against the Government. Paradoxically, Sergio Massa's new deputy ministerUntil less than a year ago, I tweeted against the Kirchnerism for its lack of economic planning and corruption.
"That incompetent government What do we have!" the new deputy minister posted on October 22, 2021, tagging economist Sergio Chouza, Cristina Kirchner and Alberto Fernández. His publication referred to another that reported the paralysis of the Volkswagen plant in Córdoba, due to obstacles to imports due to the lack of dollars.
In 2020, he also questioned the government for its inability, especially for the lack of credibility in the financial markets and for the stocks on the dollar, a permanent in the Front of All. "The Government is unable to generate confidence for private investment. Restrictive exchange measures take away the possibility of a sustained recovery, "he explained.
In addition, it revealed the weakness of President Alberto Fernández, a premise that currently gained more strength with the appointment of Sergio Massa as head of almost all the areas surrounding the economic portfolio. "The passivity of the Governors is striking, and it is likely that this indicates the weakness of @alferdez. Today Cristina and Máximo Kirchner dominated the scene, and that is very bad for economic development. Thus, it will be very difficult for any technical measure to reach ", he explained.
Accusation against Cristina Kirchner
In particular with Cristina Kirchner, Gabriel Rubinstein was blunt throughout these years. "Argentina has to show a multi-year path that lowers the fiscal deficit and advances on surplus results. With @CFKArgentina 9 points of GDP were lost (from 4% surplus to 5% deficit) which are the mother of all indebtedness and #inflation", he had posted in March 2021.
Also noteworthy are the publications that point to the vice president as being responsible for acts of corruption. "Nice attempt to hide how corrupt they are…keep it up!!! I don't know if God will forgive you, but @CFKArgentina sure will! she responded, in 2021, to a political economist for the VIP vaccination scandal.
Who is Sergio Massa's chosen one?
The one chosen by Massa has a private consulting firm dedicated to Economy and Finance. Under the name of GRA Consultora, analyzes are carried out on economic situations attended by politicians and businessmen, NA says. In addition, he already held public office when he occupied the Central Bank of the Argentine Republic during the administration of Roberto Lavagna between 2002 and 2005.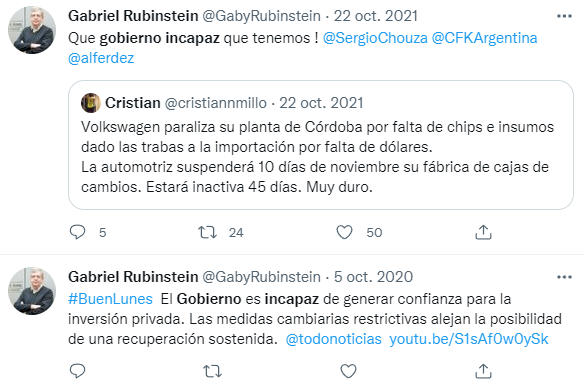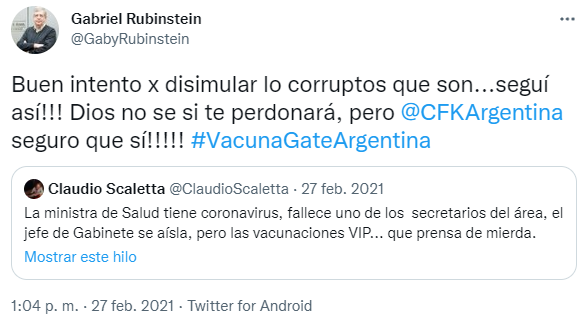 Source: Elintransigente
Disclaimer: If you need to update/edit/remove this news or article then please contact our support team
Learn more