It was quiet for a while about safety in the cycling peloton, but the Tour of Poland changes that every year. Now that there are also massive crashes in the Tour of Burgos at the same time, the call for action is loud again. But just abolishing or demoting races is not the solution for cycling union CPA.
Over the past week, the peloton has been ravaged day after day by falls in two different races. In both the rounds of Poland and Burgos, the finger was quickly pointed at the organization and the course.
Sudden narrows in the last kilometer, a speed bump 500 meters from the line, crush barriers that come loose… Just about all safety measures seemed to be ignored.
(read on under the tweets)
Especially in Burgos there was commotion after David Dekker (Jumbo-Visma) fell over a speed bump and brought down half the pack and his three teammates were able to drive quietly to victory. It resulted in striking images and apologies afterwards from winner Timo Roosen and number two Eduardo Affini.
(read on under the tweets)
"Take the Tour of Poland from its WorldTour status"

But although the Jumbo-Visma riders had to go through the mud because of their exuberant (and inappropriate) celebration, for the general public, the culprit in both Poland and Burgos was clearly the organization.
Certainly the Tour of Poland is criticized for the umpteenth time, including after the unfortunate death of Bjorg Lambrecht in 2019 and especially the death of Fabio Jakobsen a year later.
The question of why Poland still has WorldTour status has been raised more than once on social media.
"We have every interest in the Tour of Poland continuing"

Staf Scheirlinckx of the cyclists' union CPA realizes the problem, but sees no point in abolishing races.
"Of course the Tour of Poland does not have a very nice history. You can then react very emotionally and say: "That round must be abolished, it has been enough." But it is not all that simple."
"The Tour of Poland is the only major race in that region, I think we have every interest in such a race to continue."
"I think it is better to look for what is possible to support the organizers and to ensure that the UCI regulations are properly observed. If that is not the case, then action must be taken. But then it is up to the UCI to react. "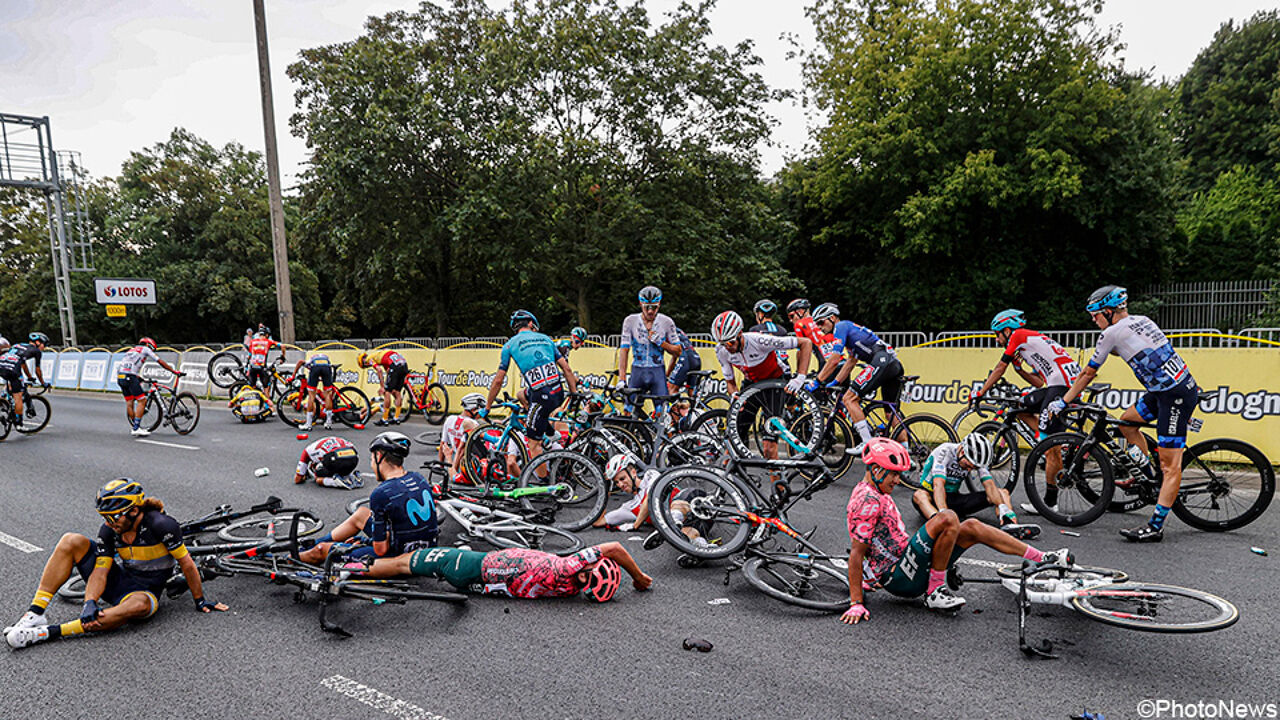 Already in the first ride there was major damage in Poland
"Price safety is a long-term process"

Scheirlinckx puts the falls into perspective somewhat. "We race on public roads and, just like in traffic, there will always be accidents. No matter how hard we want races to be as safe as possible, that will never work out perfectly. Serious falls also happen on the track."
"People say: "The UCI has to pre-approve the course". That happens to some extent, but the UCI does not have the budget to send someone to every cycling race in advance to inspect the course. And often traffic situations also change in the period before a race. It is difficult to fully estimate the course two months before a race."
"The CPA also does not have the resources to take on that task. We can only react afterwards. That way it becomes a long-term process."
"But I do notice a change in mentality in cycling. More and more people are starting to prioritize safety in the peloton. The teams also realize that there is improvement. In my opinion, we have gone in the right direction. But racing without crashes will never succeed ."
There is a mentality change in cycling"
Source: Sporza
Disclaimer: If you need to update/edit/remove this news or article then please contact our support team
Learn more