4 Aug 2022 06:50 am

The RBB journalist Olaf Sundermeyer has had a personal problem with critics of the Corona measures since 2020. He locates a majority of citizens at protest events that he finds unpleasant and claims that he can only report under police protection. A search for clues.
by Bernhard Loyen
From July 30th to August 6th, the "Week of Democracy" was proclaimed in Berlin, with events taking place every day. As in the past two years, critics of the Corona measures are trying to mobilize like-minded and critical citizens nationwide to protest together on the streets of the capital against past, current and future measures by politicians. For the current protest week, the range of topics has been expanded to include the most recent events in the current foreign, economic and energy policies of the incumbent government.
The protest movement itself – critical citizens and initiatives – was given a very subjective picture by the public media and especially by the capital's press as soon as it emerged in spring 2020. The Tagesspiegel author Sebastian Leber as well RBB presenter Olaf Sundermeyer is committed to a personal, very ambitious supposed fight, almost a campaign against "lateral thinkers, Monday strollers, Reich citizens and people who understand Russia" (quote Olaf Sundermeyer).
Sundermeyer is considered in the public media as a so-called right-wing extremism and hooligan expert, which is why he can also be found regularly at events of the corona-critical protest movement. For the journalist there is absolutely no doubt, in a purely subjective perception, that these would take place without the influence of the "right-wing scene". Since he is known "in the scene", he can currently only report on the events under police protection, keyword: lying press.
This reputation was of course right at the beginning of a contribution RBB evening show on August 1st, as part of a recap of the events of Day 3 of Democracy Week in Berlin. The introduction to the Abendschau contribution conveyed to the viewer the "neutral coloring" of the Senders, i.e. evaluation of the event:
"On day 3 of the so-called Week of Democracy, people meet for the 'media march' (title of the event). Goal – media houses. Opponents of vaccination, so-called concerned citizens, supporters of lateral thinking and the grassroots party met right-wing extremists."
This compilation could only have been provided by Olaf Sundermeyer, who was also invited as an interview guest. "Working with disruption and police protection" was the challenge for the expert when deployed at the front. Quote from the post:
"Our RBB team was also harassed and hindered. The colleague (Sundermeyer) repeatedly made his name public, with the megaphone in focus."
The (demo participants) "have called your name again and again today and are always relatively close," the moderator digs deeper at the beginning, impressed. How does that affect the demo professional? He calmed down very confidently that he had "known that for a few years", but experienced it "reinforced from this spectrum" at demonstrations. Then it gets interesting. Sundermeyer verbatim as a real frontline reporter:
"Today, however, it was the case that we actually only had to call for reinforcements, the police officers we just saw in the picture, and asked us to wait so long because otherwise they could not guarantee our safety. We were basically escorted by a full chain of police in order to be able to take pictures at all of this demonstration."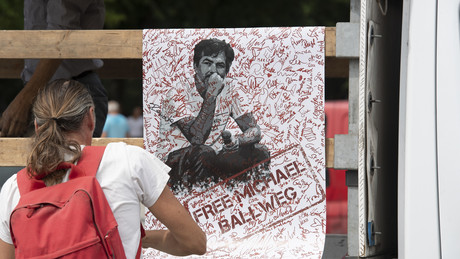 RBB viewers, readers and citizens who have never been to such an event could now catch their breath. It resonates – cops, reinforcements, security, guarantee, police chain, escort. That clearly sounds like escalation, violence, danger to body and soul, ugly pictures. Was a team car enough? Did he need a hard hat?
The search for clues follows. The search for evidence for the statements of Olaf Sundermeyer. The supposed danger potential of the moment. These are found quite quickly, since even the media professional Sundermeyer still does not want to understand that out there, on the supposed front, there are people who no longer want to be discredited.
Yes, Mr. Sundermeyer was recognized because he also wants to be recognized. Yes, he was approached. Provocative or necessary? Depending on perception. Was he threatened? no A journalist who has been completely arbitrarily assuming right-wing tendencies and inclinations for the last two years, who recognizes that the majority of participants in peaceful civil protests whom he does not know and interview have "overthrow fantasies" for a "Hot Autumn" must assume that he will also be spoken to more harshly . The following identical "danger situation" (on the Reichstag meadow), corresponding to the scene used in evening show contribution, can be found very quickly on the Twitter portal. A Twitter user writes about his post and a supposedly precarious situation for Sundermeyer:
"A lot of praise and solidarity for Olaf Sundermeyer. I would not have had this composure."
The research results in further documentation of the self-sacrificing reporting of right-wing extremism experts RBB. From the same day, at the Brandenburg Gate, a three-minute walk from the Reichstag. These pictures are simply revealing. Is Mr. Sundermeyer attacked verbally or physically? no Does he need increased police protection? no Was he recognized and addressed? yes without any problem The truth speaks for itself. The man on the stage speaks this RBB-Team direct to:
"I saw the camera, from the RBB. (…) Thank you for the objective and honest reporting. (…) I hope that the cameraman, like the familiar face next to him (without further naming – Sundermeyer), reported here in the true sense of the truth."
Where was the rbb team harassed, insulted or approached, or where was filming stopped? Surely you have film material that proves your statement. The video below doesn't look like you've been harassed. You are a disgusting rabble-rouser. pic.twitter.com/JafcSjrQRI

— HaPe (@HaPeohje) August 2, 2022
The crowd in attendance laughs, claps and cheers. Team Sundermeyer, mouth turned down, and the RBB against peaceful democrats and demo participants – 0:1. In summary, these recordings will represent another important contemporary document of the Corona crisis. Another showpiece of the purely manipulative, discrediting work of a public television journalist. Financed and made possible by the GEZ fees.
In 2021, the total income from broadcasting fees in Germany was around 8.42 billion euros. A little more journalistic neutrality, due diligence and quality are really not too much to ask.
PS: A live stream from day 3 of "Democracy Week", which Jens Zimmer filmed for InfraRot, shows how the relationship between the journalist Sundermeyer and the demonstrators and the police really is. From about minute 13 you can see how Mr. Sundermeyer, although visibly disgusted, makes his way through the demonstrating civil society completely unmolested. Sundermeyer leads, followed by the RBB-Cameraman, plus personal security – and five uniformed Berlin police officers who follow him at a certain distance and obviously (what a special service!) especially for that RBBteam are turned off. Everything is completely relaxed and non-violent. Expressing opinions at rallies is allowed…
more on the subject – Delivered as ordered? Sociologist Renn warns of social "ordeal" in autumn
By blocking RT, the EU aims to silence a critical, non-pro-Western source of information. And not only with regard to the Ukraine war. Access to our website has been made more difficult, several social media have blocked our accounts. It is now up to all of us whether journalism beyond mainstream narratives can continue to be pursued in Germany and the EU. If you like our articles, feel free to share them wherever you are active. This is possible because the EU has not banned our work or reading and sharing our articles. Note: However, with the amendment of the "Audiovisual Media Service Act" on April 13, Austria introduced a change in this regard, which may also affect private individuals. That's why we ask you not to share our posts on social media in Austria until the situation has been clarified.
RT DE strives for a broad range of opinions. Guest posts and opinion pieces do not have to reflect the editor's point of view.

Source: RT
Disclaimer: If you need to update/edit/remove this news or article then please contact our support team
Learn more