The alarms have jumped in Spain. More and more women report having suffered punctures at parties, festivals and nightclubs behind which chemical submission could be hidden to commit sexual assaults. Although this theory is losing less and less force, the police do not stop documenting complaints throughout the territory.
communities like Catalonia and Extremadura They have already updated and activated protocols for action in possible cases of chemical submission, while the authorities ask for caution: in practically all the analyzes carried out, no toxic substances have been found and the women have not reported being victims of any crime.
The revised protocols and guides advise calling 112, reporting and going to a health center as soon as possible, where a toxicological analysis will be carried out without delay. The doctors will assess whether it is also necessary to activate the prophylaxis protocol HIV post-exposure. There are already dozens of complaints, almost all of them from women who report having felt a puncture while partying at entertainment venues, festivals or concerts.
[Qué sabemos de la ola de 'pinchazos' en discotecas: "Más que sumisión química, son agresiones"]
Catalonia adds 23 complaints, as police sources have informed Efe, and the president of the Generalitat, Pere Aragonès, has shown his concern on Tuesday, with a call to the public to "be alert, denounce and isolate" the authors of the punctures. "This is not a question of women when they go to a party, this challenges us all", he remarked.
The Basque Government is also working on a coordinated action protocol, with meetings in which the Health, Security and Justice departments participate, after receiving a dozen complaints about punctures investigated by the Ertzaintza. In the town of Azpeitia (Gipuzkoa) Two cases have been documented, while there are already a dozen in Bilbao and its surrounding municipalities.
Hello, we have decided to show the photos in case they can illustrate someone, the first one is from when my sister told me at the time that she had noticed a puncture and to look to see if there was anything, the other two photos are from right now (hours later ) pic.twitter.com/YgSoculhMr

— 🌷 (@444pmmmagica) July 30, 2022
They are cases not linked to complaints of sexual assault and, in this context, the Minister of Equality, Justice and Social Policies, Beatriz Artolazabalhas called for calm and prudence and has unmitigatedly condemned what he has described as "a new form of violence against women" that cannot lead to a "return to fear, which is the real threat".
For its part, the Extremadura Health Service (SES) has issued a health alert to inform health professionals and citizens on how to act against punctures, considered by the regional government as an "emerging problem." however, for the time being No cases have been documented in Extremadura.
Positive on liquid ecstasy
The Valencian Community has also launched an action plan to reinforce agents of the National Police and the Civil Guard for the summer months in the areas with the most crowds and parties to prevent sexual assaults or punctures. already consist three complaints in Xàtiva Y one in Castellón. Although the official figure is four punctures, public television speaks of up to 12.
Likewise, the Benemérita has registered six possible cases of punctures in the Balearic Islands –four in Ibiza and two in Mallorca-, although only three have ended in a complaint and none have yielded a positive result in the analysis.
This is the trend in the vast majority of reported incidents, except in the case of a minor 13 years in Gijon who reported a puncture at the parties in the Montevil neighborhood that affected his behavior and tested positive for liquid ecstasy in the tests carried out at the Cabueñes hospital.
In Cantabria, according to data updated by the police, samples from a total of 11 people who reported punctures at the Reggaeton festival in Santander -four have filed a complaint- and no case has tested positive for toxic substances.
The investigation into a possible puncture to a woman in the Montegros Desert Festivaland in Castilla-la Mancha there is also evidence of a single complaint, in Toledo, with a negative analysis.
Given the trickle of cases, the general secretary of the nightlife association Fecarsam, Joaquim Boadas, called for calm on Tuesday and claimed that "clubs are safe." In statements to Efe, Boadas has predicted that punctures will go "down" in the same way as "It's already happened in France and the UK."
The cases in Andalusia are concentrated around a nightclub The Port of Santa Maria (Cadiz). This is where six of the eight complaints registered by the community come from. The other two are from Malaga and Lucena (Córdoba).
I grab my friend by the arm, she goes behind me, and I try to separate the mass of people who were in front. Suddenly, my friend grabs my arm tightly and yells at me "I'VE BEEN STICKED".

– Cris (@cristina_mff) July 31, 2022
False alarm?
Several experts have already questioned that behind this phenomenon is the intention to sexually subjugate women through chemical submission. The most palpable proof is that there are no crimes after the punctures and the vast majority of people who reported cases did not show traces of substances in their analysis.
"Behind the punctures there are only thugs with very bad milk", considers Javier Meana, professor of Pharmacology at the University of the Basque Country. A similar opinion has the company energy-control, laboratory specialized in drug matters. "We do not deny that there are attacks with something sharp, but this story that they are inoculating drugs with a syringe in nightclubs sounds fanciful to us, there are several pieces that do not fit," the expert told The confidential. "It seems very strange to me that someone approaches you from behind, sticks you with a needle and can get away with it. A puncture is noticeable and, if they inoculate you with something, it is much more noticeable," says Ventura.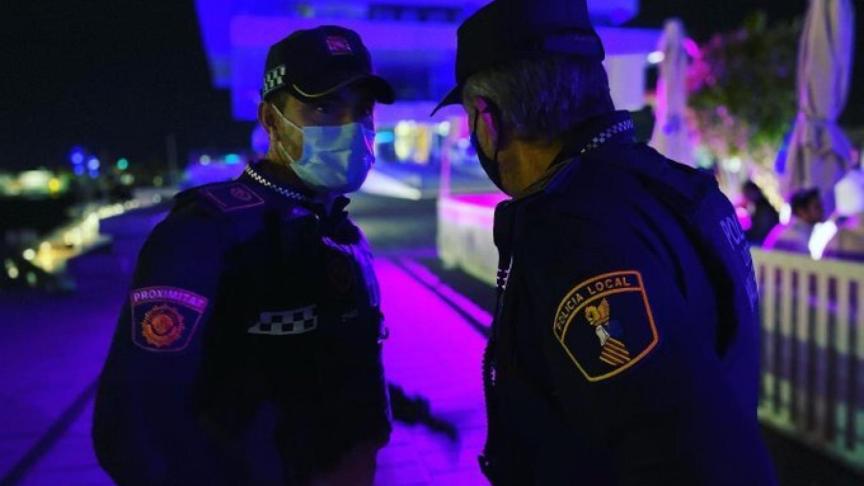 "These substances have to be administered intramuscularly. This means that you have to have a very thick needle and stick it several centimeters under the skin. In addition, you have to administer it slowly, around 20 seconds, because it is a large amount of liquid. It is quite a painful experience," explains the Energy Control expert. "How is someone going to be inadvertently giving you an intramuscular injection while you're dancing or standing in line? it's unthinkable".
Although this phenomenon had never been seen in Spain, other European countries have experienced similar situations, to the point that there is a specific term in English for these punctures: needle spike.
The first documented case of a flat tire was in October 2021 in the Scottish city of Dundee. A user named Amy Herbert recounted in an instagram post how a girl – not her – had suffered a puncture in the Captain's Cabin pub. Although the message was tremendously viral, the facts were never clarified.
Quickly, among the social networks and the British tabloids, social panic began to grow, at the same time as the denunciations. Cases soon emerged in Aberdeen, Edinburgh and Glasgow. By mid-November, 274 suspected punctures had been reported across the UK, and by January, they were 1,300 complaints. Of all these cases, none was confirmed or involved a sexual assault. Something similar has also happened in France, where it has been impossible to find traces of drugs in more than 800 complaints.
injury crime
However, the Minister of Justice, Pilar Llophas called this Wednesday to the women who are suffering punctures to denounce it and has stressed that the puncture itself already supposes a crime of injuries, "a serious act of violence against women", because they are being expelled from public spaces.
In statements to TVE, Llop stressed the importance of the victims going quickly to a medical center so that an analysis can be carried out and they file a complaint, because without it it will be "very difficult" know the pattern followed by the authors, their purpose, and they will go unpunished. "We need to know what this phenomenon is due to in order to combat it effectively," insisted the minister, who acknowledged the alarm among young women.
At the close of this edition there were 63 complaints for punctures throughout the national territory, but this figure has not stopped growing in recent days. Luckily, none of these cases have ended in sexual assault or any kind.
Follow the topics that interest you
Source: Elespanol
Disclaimer: If you need to update/edit/remove this news or article then please contact our support team
Learn more