After a prosperous football season, the supporters of Djoliba AC decided to come and present their trophies to Ms. Touré Lobbo Traoré, President of the Amadou Toumani Touré Foundation for Children, in tribute to President ATT who was a fervent supporter of the Club . The ceremony took place on Monday August 1, 2022 in the premises of the ATT library, on the ground floor of the Fondation pour l'Enfance.
Addressing Mrs. Touré, the President of Djoliba AC, Mr. Tidiani Niambelé insisted on the fact that the initiative of this presentation of trophies in tribute to the former Head of State was to be put to the merit of the supporters under the leadership of their president, Harouna Vieux Diallo. The management of the Club is proud to support this great idea, added Mr. Niambelé who recalled his personal ties with President ATT since both were students at the Normal Secondary School. He recalled his last meeting of more than an hour with President ATT, a few weeks before his call to God.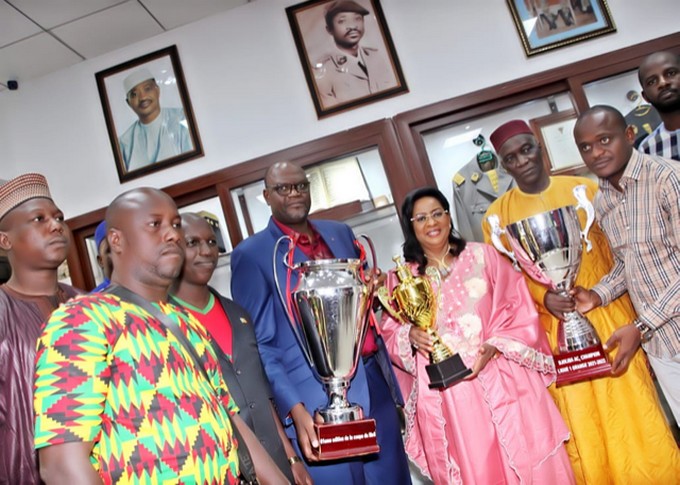 The president of the supporters said he was moved to make this gesture of remembrance to a great president who was a supporter of Djoliba, but above all a great sports fan. He presented the three trophies gleaned in the season, namely the title of Champion of Mali, holder of the Mali Cup and the League Cup, a pass of three which is a real feat.
Ms. Touré Lobbo Traoré welcomed her guests to a space, the ATT library, dedicated to the man whose memory we are celebrating. She congratulated the Djoliba for its good season which is to the credit of the players, the management, the leaders and the supporters. This dedication to President ATT sincerely touches us, she said. For Ms. Touré, "ATT loved Djoliba, and beyond Djoliba, he carried all the Malian clubs in his heart as Head of State because he loved the youth of his country".
Remarks corroborated by a friend of the president, the former sports journalist Madou Diarra from L'Essor who recalled the highlights of their presence at the Stade Omnisports as well as anecdotes which were so many lessons for the participants. He did not fail to magnify the presence of ATT alongside Stade Malien until the final victory in the CAF Cup, demonstrating his attachment to all Malian sport.
Mr. Sylla (The Dawn)
Comments via Facebook:
Source: www.maliweb.net
Disclaimer: If you need to update/edit/remove this news or article then please contact our support team
Learn more