The front of all He decided throw a campaign via social networks for support a Cristina Kirchner in the judgment by corruption in public works. Official leaders and officials posted the hashtag on their Twitter accounts #AllWithCristina. In many of the posts, Justice was accused of persecution against the vice president.
The ruling coalition lined up behind the former President after Diego Luciani's harsh statement. The Federal judge accused her of "installing and maintaining one of the most extraordinary corruption matrixes that, unfortunately and sadly, the country has known." Before these different referents of the Front of All came out to support the leader of the alliance.
One of the first to start the campaign was Gabriel Katopodis. The former mayor of San Martín posted: «Cristina Kirchner is a victim, precisely, of the opposite. It is imperative for our democratic system that this justice does not function as a Judicial Party. #TodosConCristina». That same path followed the governor Axel Kicillowho was more succinct: «Against lawfare and the persecution of Cristina Kirchner. #AllWithCristina«.
One of the most fervent Kirchnerists, Andrés "El Cuervo" Larroque, also wanted to express his support for his leader. «They persecute her for defending Argentines from the same economic, media and judicial power that today wants to ban her. Democracy or corporations. #AllWithCristina»published the Minister of Social Development of the province of Buenos Aires.
There were also messages from Kirchner leaders such as the mayor of Quilmes, Mayra Mendoza or legislator Anabel Fernández Sagasti. Leandro Santoro accused the Justice of «demonize Cristina». The national deputy Victoria Tolosa Paz targeted the media against the Judiciary and also maintained that the judges «They are guarantors of the impunity of Mauricio Macri and persecute Cristina Kirchner«.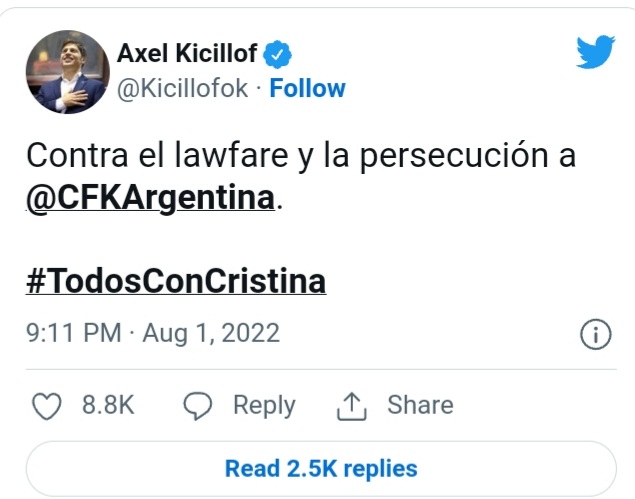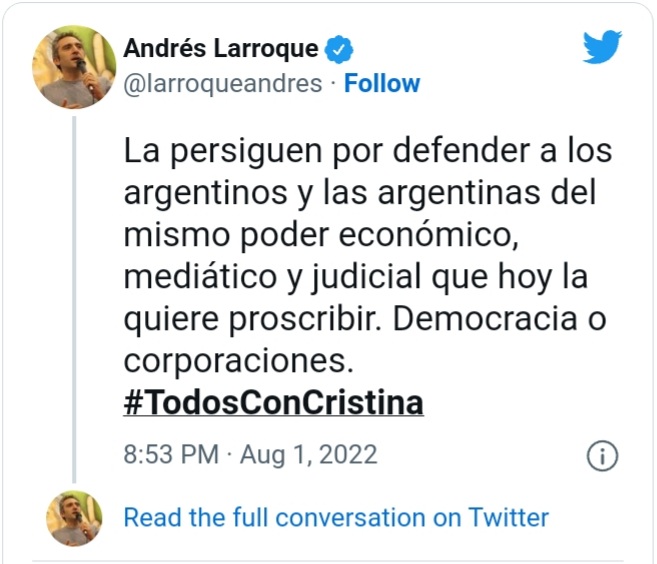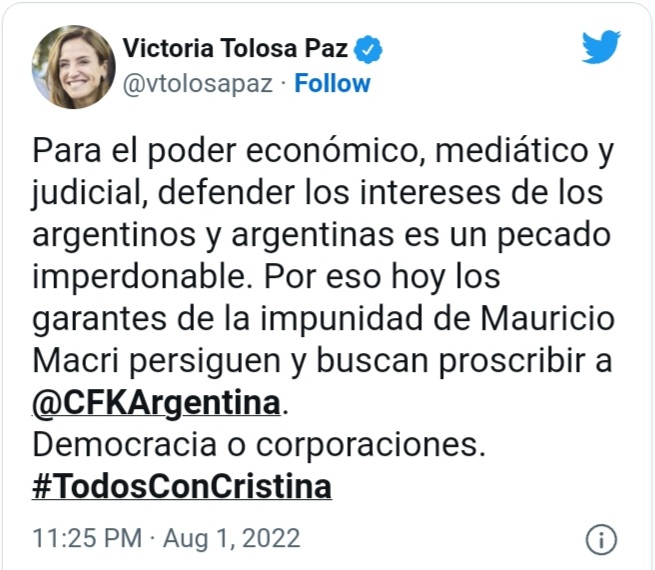 Source: Elintransigente
Disclaimer: If you need to update/edit/remove this news or article then please contact our support team
Learn more
Add Then24 to your Google news feed.