The National government denounced in the last hours a "legal war" against Cristina Kirchner. She did it through a statement published by the Secretary of Human rights (HR) in charge of Horace Pietragalladependent on Ministry of Justice conducted by Martin Soria. The statement came after the first day of allegations against the vice president in the judgment by Public work, cause also called "Road".
The official letter from the Secretary of Human Rights of the Nation warns that the "lawfare" against Cristina Kirchner constitutes a practice that conditions the electoral processes. At the same time, "it overwhelms the fundamental rights of direct victims," ​​said this area, understanding in this sense that fundamental guarantees of the rule of law are ignored.
The office of the Secretary of DD.HH.
"Since the beginning of the new administration, in December 2019, the Human Rights Secretariat has been warning that lawfare or 'legal warfare' constitutes a practice that violates human rights that operates as a conditioning factor for electoral processes, the political agenda and public opinion," the agency remarked, recalling that "it has the responsibility to investigate" acts in which "state authorities may be responsible for violating rights."
In this regard, he warned that lawfare is promoted by "sectors of the Judiciary, the political opposition and concentrated sectors of economic and media power." "Lawfare is a practice that violates human rights, in the first place, as it subjugates the fundamental rights of the direct victims who are the object of its actions," Human Rights said, adding that this practice also "enables the design and implementation of public policies with a clear regressive bias in terms of human rights".
"In these legal cases, such as those faced by the former president, under the excuse of investigating and punishing acts of corruption, fundamental guarantees of the rule of law are violated: basic guarantees of due process such as the presumption of innocence, the right to of defense and the principle of objectivity that should guide the actions of the Public Prosecutor's Office", objected the Secretariat.
Likewise, he called "in favor of judicial independence and democracy" and "deeply regretted that this situation is endorsed by the Supreme Court of Justice, which, as the highest authority of a State power, should intervene to restore the legitimacy of the judicial service." Justice". The Secretariat stated that they will dialogue with international organizations "so that they carry out an exhaustive scrutiny of these irregular judicial processes."
Second day of allegations against Cristina Kirchner
When taking up this Tuesday his allegation in the trial that follows the vice president and 12 other defendants, the federal prosecutor Diego Luciani maintained that in the province of Santa Cruz there was an "inadmissible gross address" in favor of companies of Lazarus Baez in the adjudication of national road public works between 2003 and 2015. In addition to Cristina, Báez, the former Minister of Federal Planning July of Vido and former area officials such as Julius Lopez Y Carlos Kirchneramong others.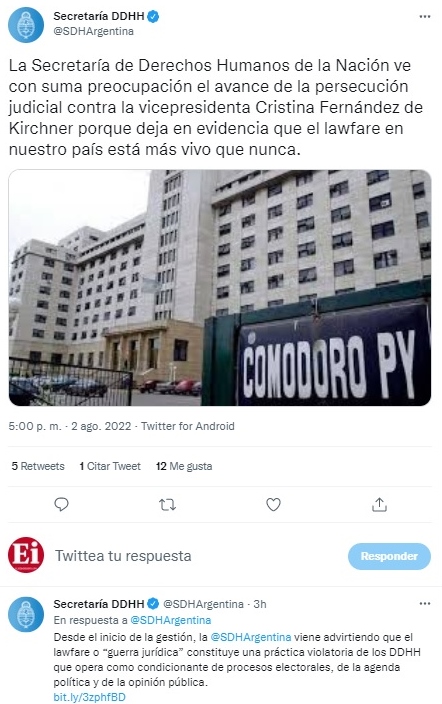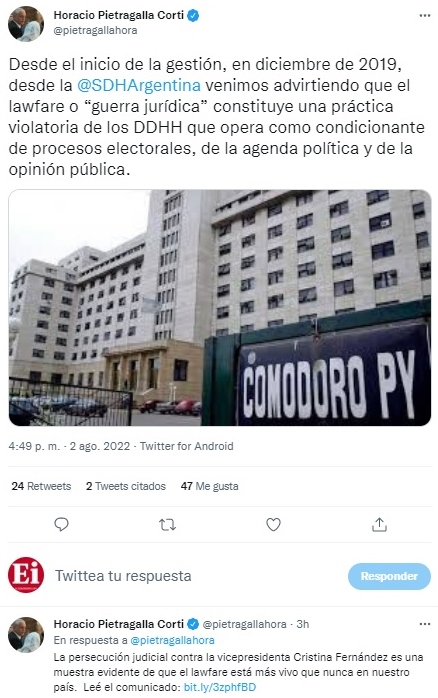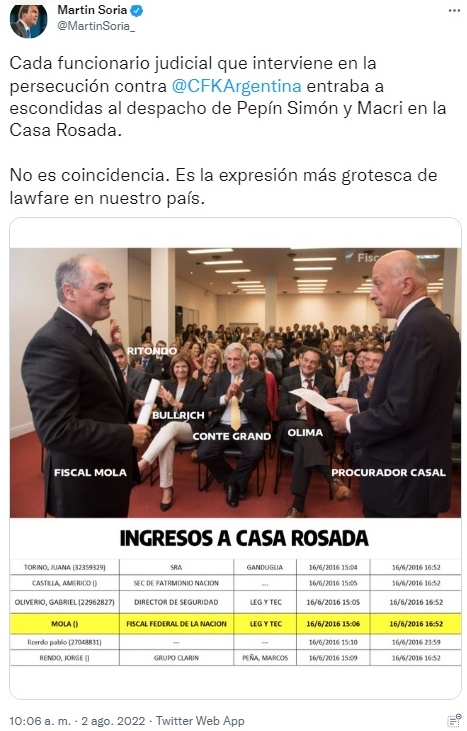 Source: Elintransigente
Disclaimer: If you need to update/edit/remove this news or article then please contact our support team
Learn more