Aug 2, 2022 10:00 p.m

An analysis by Scott Ritter
On June 23rd wrote Alexei Reznikov, Ukraine's Defense Minister, on Twitter:
"The HIMARS system has arrived in Ukraine. Many thanks to my US colleague and friend, Secretary of Defense Lloyd J. Austin, for these powerful weapons! Summer is going to be hot for the Russian occupiers. And for some of them, the last."
With another tweet on July 4th he went one step further. In it he wished the American people a "happy Independence Day" and thanked them for their continued support "for the Ukrainian cause". Reznikov highlighted the role played by the HIMARS systems, which he described as "playmakers on the front lines".
In the weeks following Reznikov's announcement of the arrival of the US-made M-142 High Mobility Missile System – HIMARS – the hype that has accompanied the deployment of this new weapon on both Ukrainian and Russian sides seems at odds with the claims made by Ukraine's defense minister to substantiate that Kyiv now has "a groundbreaking new weapons technology".
The harsh reality of warfare is that any modern weapon system, when used effectively, is capable of inflicting casualties on an opponent. Igor Strelkov, a pseudonym of Russian nationalist Igor Girkin, whose previous employers included the Russian FSB and the Donetsk People's Republic militia, reported on his Telegram channel some of the destruction caused by HIMARS.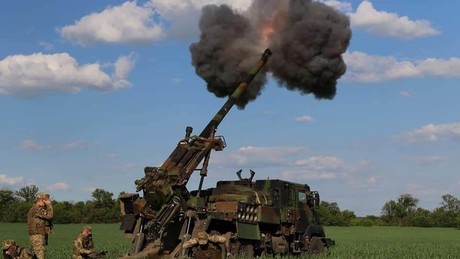 "In the past five to seven days," he wrote on July 10, "there are more than ten large depots of ammunition for artillery and other ammunition, several oil depots, about a dozen command posts, and about the same number of troop locations in our near and deep behind, as well as several air defense and artillery positions. Large losses of personnel and equipment were suffered."
Alexander Zladkov, a military journalist and special correspondent for the Russian TV channel Westi VGTRK, seemed to confirm Strelkov's information, sharing the following on his Telegram channel: "Ukrainian missiles and artillery have already hit our decision centers several times. With results. The centers are not big, but important." Both Strelkov and Zladkov dismissed Russia's response to what they – correctly – described as a major escalation by Ukraine and its US-NATO backers.
A typical HIMARS battery, deployed by both the US and NATO, includes nine self-propelled missile launchers accompanied by dozens of support vehicles. The US has reportedly made eight to 12 of these systems available to Ukraine so far, manned by specially trained Ukrainian artillerymen after undergoing a three-week US Army training course in Grafenwoehr, Germany.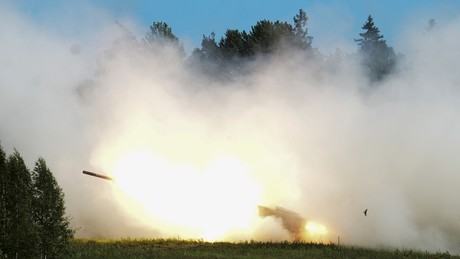 According to the Institute of War, a US-based think tank, "Ukrainian forces using US-provided HIMARS systems are increasingly targeting Russian military infrastructure deep in occupied territory with indirect fire." The institute concludes that "the increased ability of the Ukrainian armed forces to target critical Russian military installations with Western-provided HIMARS demonstrates how Western military assistance is bringing new and needed military capabilities to Ukraine."
Of the Kyiv Independent, a Western-funded Ukrainian propaganda platform, reported that "By July 7, Russia had lost most of its main ammunition depots and many of its smaller depots in occupied Donbass. Remarkably, many key targets between 50 and 80 kilometers deep in Russian-controlled territory were hit destroyed." Max Boot, a Moscow-born Russophobe responsible for the Washington Post was so impressed with the performance of HIMARS that he wrote an op-ed proclaiming confidently, "To shorten the war, one should send 60 HIMARS to Ukraine."
I mean, if eight HIMARS can bring the vaunted Russian war machine to its knees, imagine what could happen if Ukraine had 60 of them, right? But wait a minute, there is an answer to that question. In an interview with the Sunday Times Ukraine's defense minister recently revealed that President Vladimir Zelensky had "ordered the Ukrainian military to retake occupied coastal areas vital to the country's economy".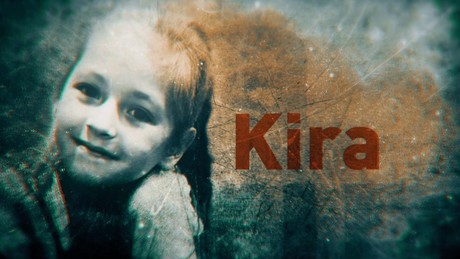 So it seems like Ukraine is winning the war against Russia. Except, of course, that she doesn't. This would not even come close to reality. The notion that HIMARS is a "superweapon" capable of turning the battlefield narratives of eastern Ukraine on their head is, simply put, sheer nonsense.
Russia has perfected its martial arts over the past three months when it comes to defeating the Ukrainian military. John Boyd, a famous American fighter pilot-turned-military theorist, coined a concept known as the "OODA loop" (Observe, Orient, Decide, Act) to describe the individual phases of military operations.
The side of the battle that efficiently implements the OODA loop "creates a decision cycle" that forces the opponent to operate in a purely reactive mode, allowing the superior party to claim victory. Russia has created "a cycle of decisions" as part of its military operation in Ukraine and is dominating the conflict economically, politically and militarily. HIMARS does not change this reality.
The Russian military, like any successful military organization, is highly adaptable. This is required to survive on a modern battlefield. The conflict in Ukraine is unlike any other conflict of modern times and requires Russian commanders to adapt operational theory, as defined by their own doctrine, to the demanding realities of the eastern Ukrainian front. The fact that some 200,000 Russian soldiers have so far been able to impose their will on more than 700,000 Ukrainian soldiers while maintaining casualty ratios decidedly in Russia's favor speaks to the reality of OODA loop dominance over Ukraine.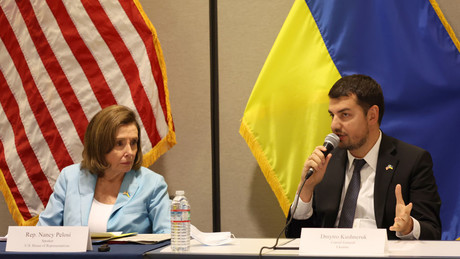 Ultimately, HIMARS and other so-called advanced Western weapons are just tools used by an actor who is being systematically defeated by the Russian military. This will not change either, regardless of whether Ukraine deploys four, eight, twelve or even 60 HIMARS systems.
First and foremost, the survivability of the HIMARS is a critical factor. Russia excels at destroying Western-supplied weapons. Due to dozens of trucks needed to transport the ammunition used by the launchers, the footprint of the HIMARS systems is large. The vehicles need fuel and the munitions need to be stored protected, as do the launchers themselves. This significant footprint creates a signature that can be detected by any capable military intelligence agency – and Russia has capable intelligence agencies. Indeed, the irony is that the greater the number of HIMARS commissioned by Ukraine, the greater the likelihood that they will be discovered and destroyed by Russia.
Moscow, meanwhile, claimed to have destroyed two of the four HIMARS systems originally delivered to Ukraine. Both Ukraine and the US vehemently denied this claim. Russia also claimed to have destroyed several warehouses used to store HIMARS ammunition. The point is that Russia is not a passive actor on the military stage. The use of HIMARS was no secret and Russia had plenty of time to prepare for their use on the battlefield.
However, this does not mean that Ukrainian forces are not causing damage or casualties. HIMARS is a deadly weapon that, properly used, can bring about death and destruction. According to Kyiv, the system was recently used in an attack on a Russian command post that killed a high-ranking general. The Kremlin has not yet confirmed this.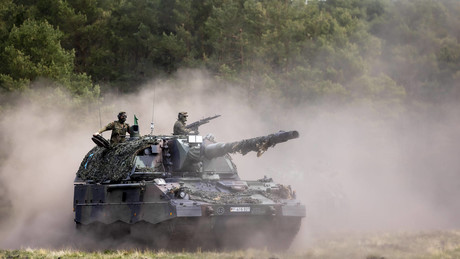 Russian military analysts say the effectiveness of HIMARS has been enhanced by a tactic in which the Ukrainian military fires multiple salvos of conventional long-range missiles. This prompts Russian anti-aircraft defenses to intervene over the intended target. Ukrainian forces then fire the HIMARS missiles capable of penetrating the overwhelmed Russian air defense network.
However, the Russian military is very adaptable. It will not be long before an appropriate tactical response to the HIMARS problem is developed and deployed. Meanwhile, Russian military operations across Donbass continue unhindered, with Russian forces exercising lethal dominance over their Ukrainian opponents.
With all due respect, Alexey Reznikov, HIMARS is not a "frontline playmaker."
more on the subject – Kyiv will only be able to push back Russia with massive military help from the West
Scott Knight is a former US Marine Corps intelligence officer. He served in the Soviet Union as an inspector in the implementation of the INF treaty, on General Schwarzkopf's staff during the Gulf War and as UN weapons inspector from 1991 to 1998. You can follow him on Telegram.
By blocking RT, the EU aims to silence a critical, non-pro-Western source of information. And not only with regard to the Ukraine war. Access to our website has been made more difficult, several social media have blocked our accounts. It is now up to all of us whether journalism beyond mainstream narratives can continue to be pursued in Germany and the EU. If you like our articles, feel free to share them wherever you are active. It's possible because the EU hasn't banned our work or reading and sharing our articles. Note: However, with the amendment of the "Audiovisual Media Service Act" on April 13, Austria introduced a change in this regard, which may also affect private individuals. That's why we ask you not to share our posts on social media in Austria until the situation has been clarified.
RT DE strives for a broad range of opinions. Guest posts and opinion pieces do not have to reflect the editor's point of view.

Source: RT
Disclaimer: If you need to update/edit/remove this news or article then please contact our support team
Learn more
Add Then24 to your Google news feed.