Last Thursday, July 28, the National government He reported that Serge Massathen president of the Chamber of Deputies, would take charge of the Ministry of Economy, Production and Agriculture after the merger of the three portfolios. This measure was promoted by President Alberto Fernandez and had the support of the entire space, including Cristina Kirchner.
Such is the case that the vice president received today in her office from the Senate to the new minister in a final meeting in the Congress before you leave your bench. There he told her about the measures he plans to take in the country's economy, such as encourage the countryside to liquidate and his plan for slow down inflation between now and next year.
The former president gave the go-ahead and before ending the meeting from the official channel of the Senate they spread it through social networks. "The president of the Senate Cristina Fernández de Kirchner today received the president of the Chamber of Deputies Sergio Massa, who will take office on Wednesday as the Nation's Minister of Economy, Production and Agriculture," they wrote.
An interesting detail to keep in mind is that the brand new minister is from a third force away from Peronism and Kirchnerism. Another point to note is that Cristina Kirchner did not meet with Silvina Batakis when she took office in front of the Palacio de Hacienda on July 4, which demonstrates the different positions of the leader.
What is coming to Sergio Massa
As was well stipulated, Sergio Massa presented his economic team on the afternoon of Monday, August 1st. Now on Tuesday he will resign from his position as president of the Chamber of Deputies and from his bench for the Front of All in order to officially assume the ministry. Finally, on Wednesday he will present a package of measures to encourage the entry of dollars into the BCRA and control inflation.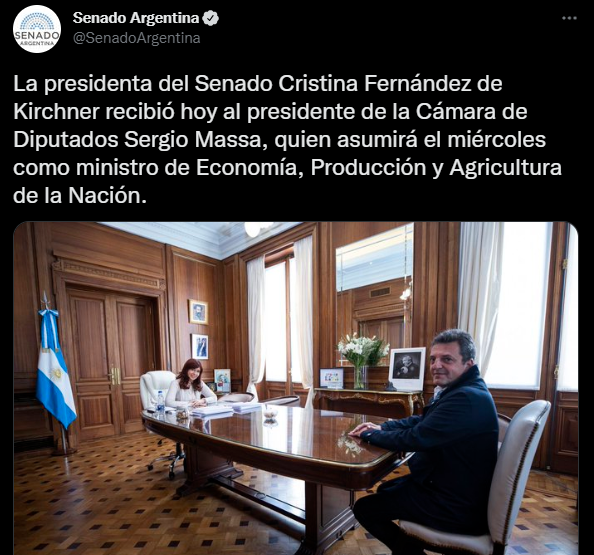 Source: Elintransigente
Disclaimer: If you need to update/edit/remove this news or article then please contact our support team
Learn more