Last June 6 the airport police detected a airplane suspect in the Ezeiza Airport. In it there was 19 crew that transported auto parts with the particularity that they had been denounced by different organizations for possible terrorist activities since in the same there were iranians and venezuelans with such links.
From there, an extensive investigation began with the collaboration of Paraguay, Uruguay, the FBI, the United States, and progressed. However, the federal judge of Lomas de Zamora, Federico Villena, authorized twelve of the aircraft's crew members to leave the country. Meanwhile, the pilot Gholamreza Ghasemi and another six people will remain in the country but without the possibility of crossing the border.
"I will have to let those named know that they must set an address and promise to undergo the procedure and not to hinder the investigation. They must also present themselves once a month -either in person or by some electronic means- to the Argentine Embassy of the Islamic Republic of Iran and the Bolivarian Republic of Venezuela, respectively," Villena said in his ruling according to NA.
Despite all this, the plane is still held in Ezeiza and the other seven members of the flight have a precautionary measure that held their passports. This means that can circulate freely throughout the Argentine Republic without impediments although they have decided to stay in a hotel to preserve their safety as a result of the exposure of the case.
The latest developments on the Iranian-Venezuelan plane
During the last week there were news about this case. On the one hand, it was ordered load release of the plane in question, which did not have illegal or contraband materials according to the report. In turn, Iran denounced that Argentina was violating human rights by holding a group of people without a firm conviction, from there it was expedited for their release to their countries of origin.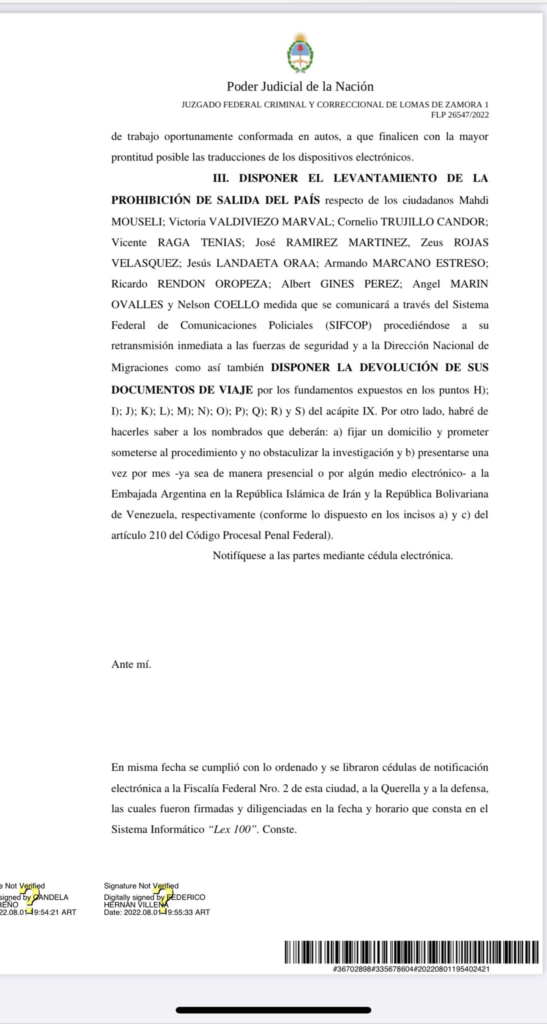 Source: Elintransigente
Disclaimer: If you need to update/edit/remove this news or article then please contact our support team
Learn more