Lawyer Gregorio Dalbon crossed this monday at Prosecutor Diego Luciani for having accused Cristina Kirchner to lead a institutional illicit associationwithin the framework of judgment by Public work. Dalbón described the judicial official's speech as "shameful" and predicted that they must "acquit" the vice president because "not one piece of evidence" is mentioned against her on alleged crimes with public works Santa Cruz between 2003 and 2015.
The discharge of Gregorio Dalbón
"The prosecutor's plea is a shame, it is filling the time. At the time, he did not mention any evidence against "the former president," Dalbón said, in a succession of tweets. "Cristina Fernández de Kirchner does not have evidence against her," the lawyer remarked on the case in which it is being investigated whether the businessman Lázaro Báez benefited from the award of 51 public road works during the Kirchner administrations.
Meanwhile, the accusations made this Monday by the federal prosecutor Luciani, who in his plea in the trial for the alleged direction of national public works in Santa Cruz alluded to the existence of "enormous relevant evidence" and announced that he will accuse the accused, among them the vice president, considering that there was an "illicit association" headed by those who "performed as heads of state."
Dalbón charged against Luciano for "not founding in law" and for "playing vehement" as if it were "a trial against humanity." "Even if they don't want to, they must acquit her," stressed Dalbón, who represented the former president in different cases. In this sense, he considered that the judicial process "is all armed" and compared it to the case of former Brazilian President Lula da Silva, whose sentences were annulled by the Supreme Court of that country after being imprisoned for 580 days for the Lava Jato case.
"They have already tried Lula in Brazil," Dalbón stressed regarding the case against the leader of the Workers' Party. Along these lines, the lawyer also questioned the role of the media in the "armed" cases against popular leaders in the region. "Let's remember that there is no lawfare without newspapers and coup journalism," said the lawyer, adding: "The match is between this unscrupulous court, a prosecutor seeking fame, and the macrista media."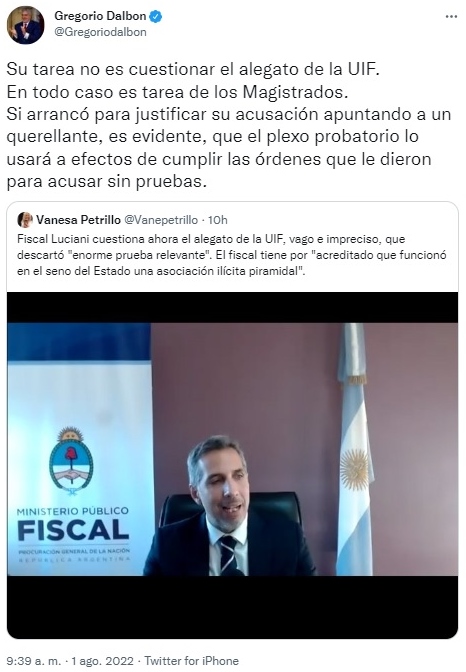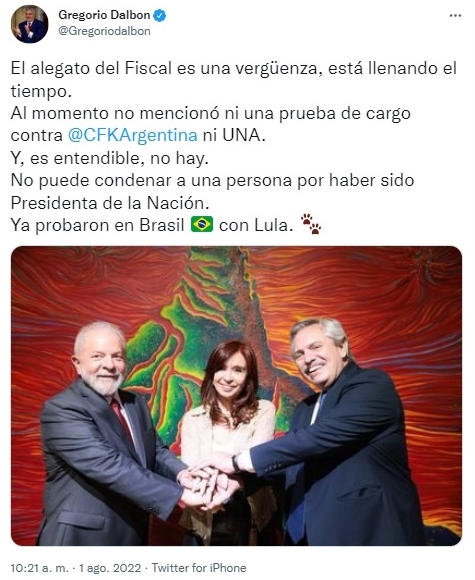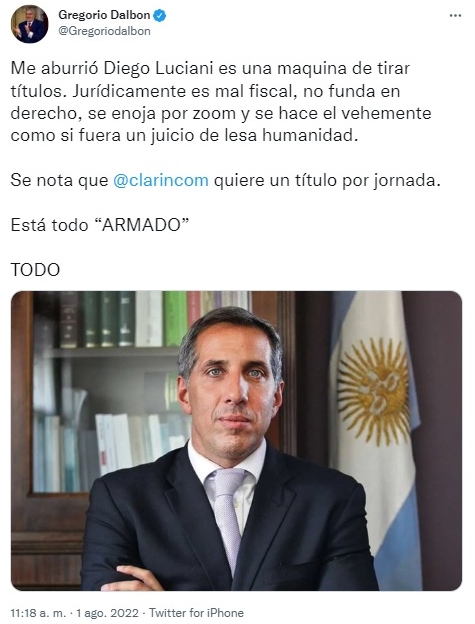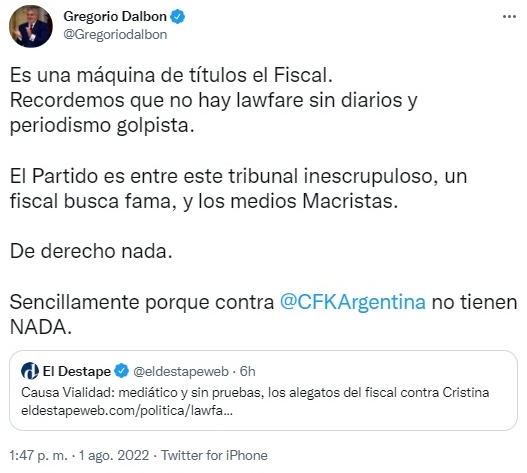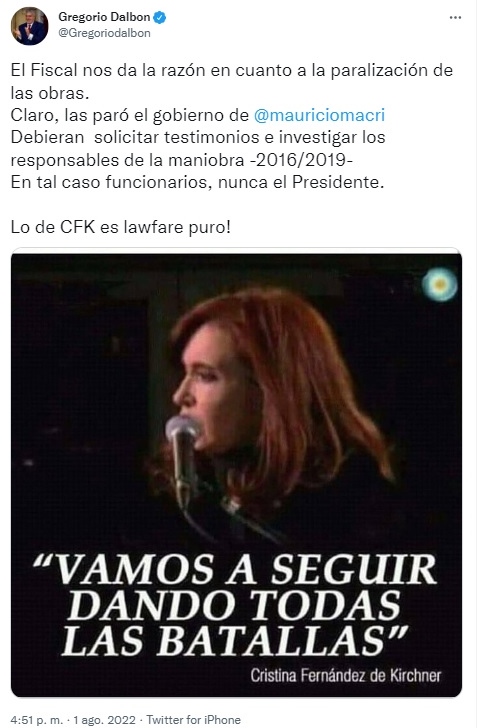 The resumption of the trial against Cristina Kirchner
The trial resumed after the winter judicial fair with all the defendants, including the vice president, lawyers, lawsuit and prosecution connected through the Zoom platform and Court judges Jorge Gorini, Rodrigo Giménez Uriburu and Andrés Basso present in the room of hearings of the courts of Comodoro Py, in the Autonomous City of Buenos Aires.
The judicial process began on May 21, 2019: 114 witnesses testified in 117 hearings and had a suspension of almost half a year in 2020 due to the Covid-19 pandemic. When giving an investigative statement at the beginning of the debate, and when it was still in person, Cristina Kirchner denied her responsibility in the case, maintaining that "it was a plan devised by the outgoing government" of Mauricio Macri and that the case "is part of lawfare."
Source: Elintransigente
Disclaimer: If you need to update/edit/remove this news or article then please contact our support team
Learn more