Aug 1, 2022 10:43 p.m

On Monday evening, the authorities of the breakaway Republic of Artsakh (Nagorno-Karabakh) accused the Azerbaijani army of violating the ceasefire. Earlier, the Azerbaijani Defense Ministry reported shelling of its own positions from the area where Russian peacekeepers are stationed.
The Armenian-dominated local authorities of the unrecognized Republic of Artsakh (Nagorno-Karabakh) on Monday evening accused the Azerbaijani army of having crossed the ceasefire line in the morning and launched an offensive. At the same time, the authorities claimed to have repulsed the alleged Azerbaijani offensive. The Azerbaijani Defense Ministry rejected this claim.
As reported by the press service of the Ministry of Defense of Nagorno-Karabakh, starting at 9:00 today in several areas of the northern and north-western border zones of the unrecognized republic, Azerbaijani units made provocations and tried to cross the line of contact, which was foiled by units of the defense army be.
"There were no injuries on the Armenian side. The situation remains tense. Detailed information about the incident was forwarded to the command of the Russian peacekeeping forces",
is the statement on the website of the Nagorno-Karabakh Defense Ministry.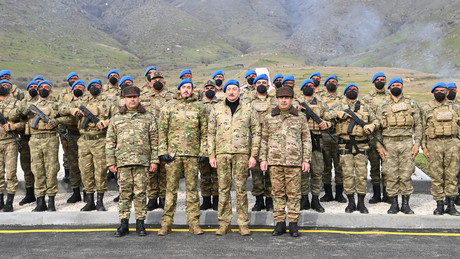 For its part, on Sunday the Azerbaijani Defense Ministry claimed that Azerbaijani positions near the village of Amiranlar in the Khojawand (Armenian: Martuni) region were shelled from the area where Russian peacekeepers are stationed. The Nagorno-Karabakh Defense Ministry, in turn, denounced this information as untrue.
In autumn 2020, in a short war, Azerbaijan recaptured large parts of Nagorno-Karabakh, which had been controlled by pro-Armenian forces since the late 1980s. At the end of the hostilities, an agreement was signed with Russia on sending peacekeeping forces. They are to monitor the ceasefire. Despite this, armed clashes continue to occur.
The statements made by the parties to the conflict cannot currently be independently verified.
more on the subject – Armenia and Azerbaijan agree to create working group on peace treaty
By blocking RT, the EU aims to silence a critical, non-pro-Western source of information. And not only with regard to the Ukraine war. Access to our website has been made more difficult, several social media have blocked our accounts. It is now up to all of us whether journalism beyond mainstream narratives can continue to be pursued in Germany and the EU. If you like our articles, feel free to share them wherever you are active. This is possible because the EU has not banned our work or reading and sharing our articles. Note: However, with the amendment of the "Audiovisual Media Service Act" on April 13, Austria introduced a change in this regard, which may also affect private individuals. That's why we ask you not to share our posts on social media in Austria until the situation has been clarified.
Source: RT
Disclaimer: If you need to update/edit/remove this news or article then please contact our support team
Learn more