Sometimes you just feel like saying "why?". The bizarre video of tiktokerki @alispagnola was liked by over 160k people, that is, he found a wide group of fans. Its premise is simple, the creator decided to cover the toilet with chia seeds and see what happens. Viewers walked through this process step by step.
Tiktokera showed a 12-day adventure in her toilet.
The first step was to cover the toilet with seeds. After the first day of watering, the roots were visible

Photo: Tik Tok

The first step was to cover the toilet with white double-sided tape. Then she put chia seeds on it and started watering it. On the second day the chia seeds started to take root.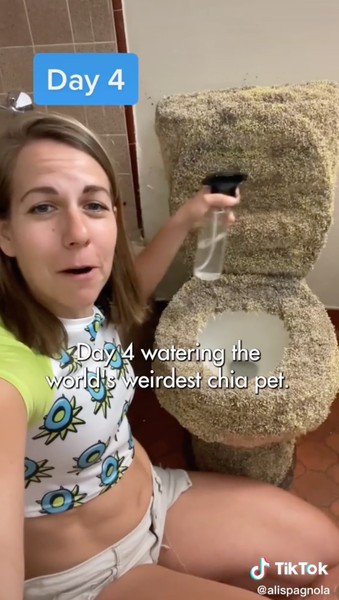 On the fourth day, the toilet began to sprout

Photo: Tik Tok

On the fourth day, the seeds began to sprout and the toilet grew greener and greener. On the seventh day, she looked like the Shire. It's hard to compare to anything else!
Then it was time to test the "green throne".
"It is strange and fun at the same time"
Ali commented, sitting down on the toilet seat covered with green stems.
Ali said she feels very comfortable and soft, and she smells fresh.
Some commenters are delighted, others wonder what's going on. There are also questions like "how do you clean it?"
Watch the full video here:
See also: TikTok censored fit-influencer video. In response, a special billboard was placed in London
Source: Ofeminin
Disclaimer: If you need to update/edit/remove this news or article then please contact our support team
Learn more
Add Then24 to your Google news feed.