This summer may be remembered as one of the most useful to alert everyone to global warming. The heat waves that have hit the month of July have had a global reach, and in addition to breaking records for intensity, they have also broken records for duration. And there is still August, which is not exactly fresh.
That is why we are going to collect all the useful information to take care of our devices in the face of what is expected to be the next few days (and perhaps weeks) with extreme temperatures. Because the heat doesn't just affect us: iPhones, iPads and Macs can also get hurt.
Protect your Apple devices with these tips
The main affected by these heat waves are the batteries of our devices. Apple itself describes in its official documentation that the fluids in these batteries begin to evaporate from certain temperatures, which damages the sensors. iOS no longer able to accurately indicate the battery charge level and we can stop trusting the information of that load that we see on the screen.
To avoid it, we have to find ways to prevent our iPhone from getting too hot. Must remove it from direct sunlight, and stop storing it in compartments like the glove compartment of the car that can reach extremely high temperatures in summer. Removing it from its case also contributes to better ventilation. If we notice that the iPhone is already very hot, we also have to avoid using it with applications that demand a lot of resources:
Games, especially those with high graphic performance.
Applications with heavy use of GPS (routes on maps).
Camera-intensive applications such as augmented reality applications.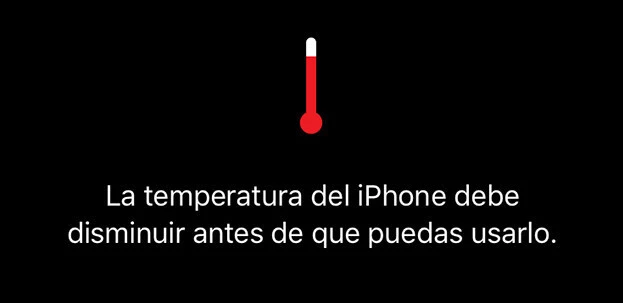 If the iPhone gets too hot, we will run into a temperature warning like the one you see just above, and you will not be able to use the terminal until it cools down a bit. To a lesser extent, the iPhone is also capable of self-regulating its performance. If it gets too hot, the chip performance drops and some features (such as turn-by-turn directions on a route in Maps) are turned off.
Another thing we can do to cool the iPhone is to put a fan on it that dissipates heat, an accessory that gains some popularity with so many hot days if we want to continue squeezing the phone to the fullest. Some brands focus on gamingbut with temperatures close to 40ºC, its use is more general.
The same can happen to the iPad than the iPhone: if it gets too hot it will reduce its functions and performance. And if a temperature limit is reached, we will receive the same warning signal from the iPhone and we will have to wait for it to cool down. Here there is no longer a rear fan that works as it is a tablet, but we can follow the rest of the tips mentioned to be able to treat it well.
And of course, we must prevent. And the best thing for that is to look at weather apps for iOS to see the temperature forecast or temperature maps, available in the Weather app for iOS or various third-party apps. While this heat wave lasts we will have to take these things into account, so be patient: there are almost two months left for summer to officially end.
Source: www.applesfera.com
Disclaimer: If you need to update/edit/remove this news or article then please contact our support team
Learn more