"he who is silent suffers". This is how the letter that Manuel Griñán, the son of Jose Antonio Grinan (Madrid, June 7, 1946) about the ordeal his father was going through due to the 'ERE case'.
And so the former president of the Junta de Andalucía has been for almost ten years, silent, living like an outlaw in his house in Aljarafe, Seville. In it he has hit rock bottom after long sleepless nights and fears, but he has also seen a little light by publishing his memoirs 'When nothing is expected'.
The life of Jose Antonio Grinan It turned around on September 10, 2013. While the new government of Susana Díaz took office after relieving him in office, an atrocious cold, despite being summer, entered through the windows of the hall of mirrors of the San Telmo Palace .
That sounded there like a bomb. That same day the investigating judge of the ERE mercedes alaya He began his accusation together with the other former president Manuel Chavez and former directors Carmen Martínez Aguayo, Francisco Vallejo, José Antonio Viera, Manuel Recio and Antonio Ávila.
[José Antonio Griñán, "destrozado": se ampara en su familia y su abogado intentará dilatar la cárcel]
"It can't be", thought many socialists present there with the conviction that this pre-attribution due to his status as a graduate, he would come to nothing. At that time the PSOE still maintained that the ERE scandal was the work of "three or four gulfs", without thinking that it would finally reach 500 investigated.
A couple of years later, the former president marked a turning point in his statement before the Supreme Court when he recognized there was "no great plan (to defraud) but there was a great fraud" and that means that "some of the controls could have failed".
Since then and, above all, as a result of the start of the ERE case trial in December 2017, he lives like an outlaw at home, with a 2,000-euro pension. "With that he lives without hardly going out and that's it," his lawyer assures EL ESPAÑOL, Jose Maria Calero.

José Antonio Griñán turned 76 last month and, really since 2009 when the cause began to be uncovered as a result of the Mercasevilla case, the last few years have been a real ordeal. Above all because the times of real life are not those of justice. The seconds are much slower and more complicated to digest.
Even the Chairman of the Board himself, Juanma Morenohas shown his empathy in this regard. "It cannot be that the sentences take eleven yearsthat those people involved live a martyrdom of more than a decade," he said last Monday when his government took office in San Telmo.
no answers
From his surroundings they assure that he does not find an answer to the questions that continue to torment him: "What am I accused of?" "Why am I condemned? I have not done anything, I have never consented to anything".
[El Supremo confirma por mayoría la condena a Griñán y Chaves por el fraude de los ERE]
The morning that the sentence of the Court of Seville was known, on November 19, 2019, the former president felt that "the air was thinning and the noise in the room was muted". A similar feeling had to be felt this week when he learned of the Supreme Court ruling confirming that sentence.
"It was hard, very hard, we had rumors that it would be announced shortly, but we were convinced that the Supreme Court was going to acquit him of embezzlement," says his lawyer.
If that circumstance had occurred, he would only be sentenced for prevarication to disqualification for public office, but he would not have to be awaiting the execution of a prison sentence. He is mainly for his time as Minister of Economy and Finance, not because of his work as president.
The former president received the news accompanied by his own. His wife, his children Manuel, Ana and Miguel and his friends, who came from various parts of Spain. Also, his phone didn't stop ringing, the calls came one after another… from friends to political representatives of all levels, as confirmed by this newspaper.
"A criminal sentence, if you are not a serial offender, puts you in doubt, disqualifies you, breaks you down and the neighbors look at you differently," says his lawyer.
The publication of his memoirs
"This book has saved his life because by writing it he has realized that he has not lost his life, but rather has done many things". and the documentation, at times, has helped him escape from his reality.
"He has worked and enjoyed doing it a lot. His character even changed when he started writing it because it has rebuilt his self-esteem," says José María Calero, one of the people who has accompanied him the most in recent years since he took up his defense just before to present the appeal to the Supreme Court.
In his work he goes over the matter of the ERE. Actually, it is a response to the aforementioned letter that his son wrote six years ago. In any case, he does make clear his intellectual facet from his first steps in politics in full transition.
[José Antonio Griñán sobre los ERE: "Si el Supremo confirma la sentencia, mi vida habría terminado"]
It was precisely at that time that he met his wife, the aristocrat Tyou are 'Mariate' Caravaca, granddaughter of the fifth daughter of the 10th Marquis of Nevares. Tflush a few years of courtship, they were married in 1970, in the Cathedral of Seville. He had just approved the opposition to Labor technician.
Above all, he still considers himself a public servant and continues to have that vocation. Graduated in Law from the University of Seville and Labor Inspector, grinan he was Deputy Minister of Labor with the first president of the Junta de Andalucía, Raphael Escuredo.
A few years later he was Minister of Health with Manuel Chaves and from Andalusia he jumped to Madrid as Minister of Labor and Health with Felipe González, from 1992 to 1996. After that he returned to the Board and from 2004 to 2009 he held the functions of Minister of Economy and Finance.
That same year he assumed the presidency of the Junta de Andalucía, replacing Manuel Chaves, resigning four years later. But before he was able to prevent in 2012 that Javier Arenas governed with 50 deputies, the best result that the PP had obtained until then. It was there when his wife, who always remained in the background, claim to fame in 2012 by sealing his electoral triumph with a kiss.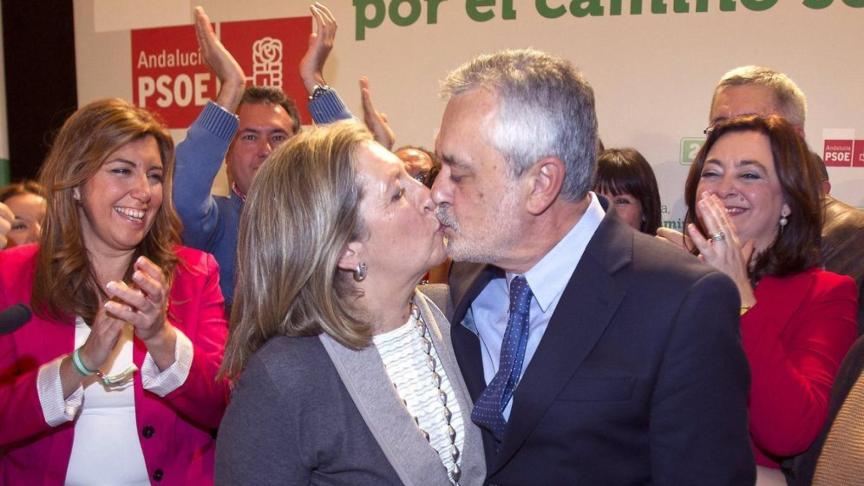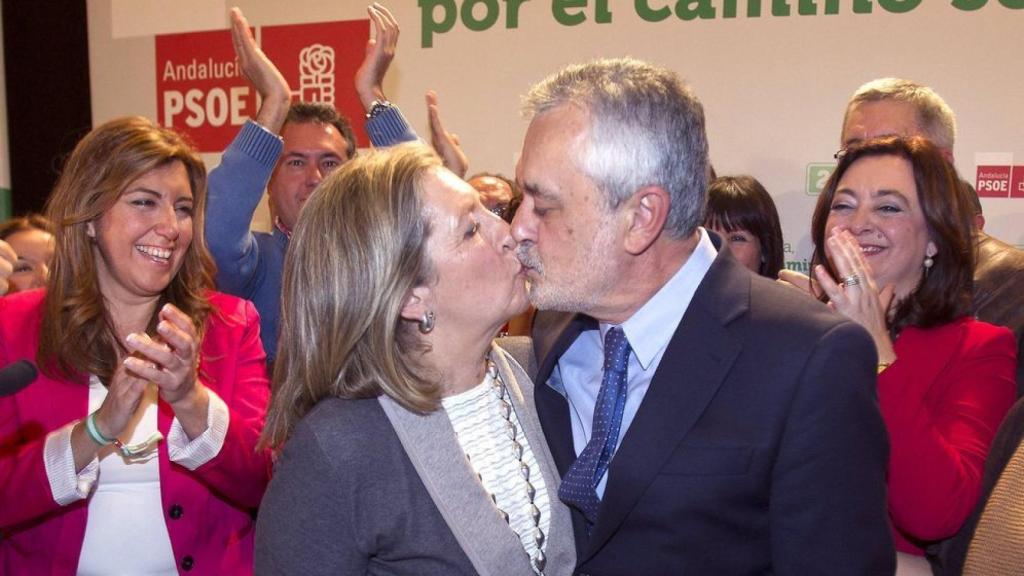 Initially, Griñán justified his resignation for the generational change in the PSOE. It was then that he passed the witness to Susana Díaz. However, she later acknowledged that she did it to "preserve the Board from erosion" of the case of the ERE.
It is really his time as an economics adviser that can lead him to jail. His lawyer wants to avoid by all means step on it. To do this, it will pose an incident of annulment of the judgment of the Supreme Court if it incurs in a violation of rights.
Also, un appeal to the Constitutional Court and even consider filing a petition for pardon with the central government. In addition, he is going to ask the Court of Seville to suspend the execution of the sentence while the processes are resolved. His future is in your hands.
The lawyer considers the ruling "wrong, wrong" and "clearly unfair". He will cling to his defense the arguments of the two magistrates of the Supreme Court who are going to formulate dissenting votes against the majority of the Chamber. He sees it as "a ray of hope".
your assets
Calero insists that there was no personal enrichment. Before being charged, Griñán did not maintain a very large estate. According to declaration of assets that he presented in the Senate In his last stage as a senator by autonomous appointment in 2013, he had a house in Seville with a cadastral value of 25,767 euros, whose ownership he shares with his wife. He also has a car for a decade, according to his son.
At that time he had in his current account of 27,022.51 euros.. In addition, he had a pension plan, also with shared ownership at 50%, in which he had saved 50,055.14 euros. However, during all these years the payment of his defenses has been on his own, which has also caused him an economic loss.
This issue was highlighted by his son Manuel in the aforementioned letter: "En my parents' house the only envelopes that are opened are those of correspondencewhich has never brought anything good".
In it, he also regrets that his father made the worst decision of his life that summer of 1982 when he decided to go into politics. "The Political Whore" If he hadn't, her son believes that he would not only he would not be going through "the current martyrdom", but economically he would have lived with much more ease. In any case, he will never know that.
Follow the topics that interest you
Source: Elespanol
Disclaimer: If you need to update/edit/remove this news or article then please contact our support team
Learn more