At German airports, long waiting times or even canceled flights had to be expected in the past few weeks. The Verdi union is now calling on Lufthansa ground staff to go on a one-day warning strike. The chaos is likely to increase.
The Verdi union is calling on the approximately 20,000 Lufthansa ground staff to go on a one-day warning strike. The union announced on Monday that there would be major flight cancellations and delays on Wednesday.
Some chaotic conditions have prevailed at German airports for weeks. There are major problems with the handling of passengers. At Frankfurt Airport, for example, there have been problems with baggage handling for weeks because there is a lack of staff. At other airports, such as Cologne/Bonn Airport last weekend, travelers have to wait for hours in long queues in front of the security check.
The situation is likely to become even more tense as a result of the warning strike among Lufthansa ground staff that has now been announced. Ground staff include technicians and logisticians, without whose services the aircraft cannot take off.
Verdi had rejected an initial tariff offer from Lufthansa, but agreed to continue negotiations for August 3rd and 4th. According to union information, the company had offered fixed amounts and a result-related component for a period of 18 months during the negotiations. The union, on the other hand, demands 9.5 percent more money in the wage tables for a twelve-month term.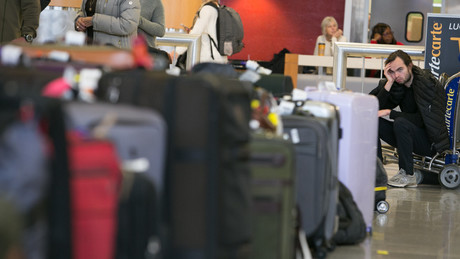 With a term of twelve months, the lower wage groups should particularly benefit. The salary increase must be at least 350 euros, it is said. And in addition, all hourly wages should clearly set themselves apart from the statutory minimum wage, which will rise to 12 euros an hour in October.
In view of the overwork, the high inflation and a wage cut for three years, significant wage increases are justified, said the negotiator Christine Behle. She is Verdi Vice Chair and also Deputy Chair of the Lufthansa Supervisory Board. Behle said the situation at the airports was escalating. The overloading of employees due to a significant shortage of staff, high inflation and a three-year wage cut would put the employees under increasing pressure.
The warning strikes are scheduled to begin at 3:45 a.m. on Wednesday, July 27 and last until 6:00 a.m. on Thursday, July 28.
more on the subject – Flight chaos: But no Turkish skilled workers for German airports – there are no applicants
(rt/dpa)
By blocking RT, the EU aims to silence a critical, non-pro-Western source of information. And not only with regard to the Ukraine war. Access to our website has been made more difficult, several social media have blocked our accounts. It is now up to all of us whether journalism beyond mainstream narratives can continue to be pursued in Germany and the EU. If you like our articles, feel free to share them wherever you are active. This is possible because the EU has not banned our work or reading and sharing our articles. Note: However, with the amendment of the "Audiovisual Media Service Act" on April 13, Austria introduced a change in this regard, which may also affect private individuals. That's why we ask you not to share our posts on social media in Austria until the situation has been clarified.
Source: RT
Disclaimer: If you need to update/edit/remove this news or article then please contact our support team
Learn more