The CGT reacted after the statements of Aldo Rico calling a "his comrades» to confront the «violence and dissolution that is going to deepen». The General Confederation of Labor he left a answer him to the ex-combatant in the Malvinas Islands and assured that have What objective «erode our democratic system«.
The former mayor of San Miguel, Aldo Rico, made a controversial message to "his comrades." The message from the military was known this Thursday and quickly spread throughout the national level. "We cannot be absent from this process that is taking place. We have to be present, say our word, mark our attitude. For that, we have to unite, organize ourselves, retake the links and organize ourselves wherever we are"he declared.
"Comrades, when the homeland is in danger, everything is lawful, less let it disappear or perish. I ask them to stand up, to recover their intellectual and political autonomy, to unite, to organize themselves and to establish an adequate link between all of us. We have to be on the side of our Armed Forces, of our Army, if the circumstances lead to more dissolution and violence, as seems to be the case."added the Falklands fighter.
This Friday the General Confederation of Labor (CGT) made a statement repudiating Rico's words. Throught social media, Hector Daer, head of the union, published a document in which he expresses his rejection of the military. «We repudiate the violent statements that circulate through the media, of characters that denote a clear anti-democratic culture"wrote the trade unionist.
The letter from the CGT condemned Rico's appeal to his colleagues in the Army and repudiated his position outside the limits of democracy. "In the face of irresponsible statements during these days by Aldo Rico, who conspicuously held public office, The General Confederation of Labor unceremoniously rejects and repudiates these and other expressions whose sole objective is to erode our democratic system"says the statement.
The document asks the Judiciary to react to the former mayor's statements. «The board of directors of the CGT suggests that Justice, through its own mechanisms, at least investigate whether these types of expressions constitute some type of crime», holds the post. Finally, the message rejects violence as a solution to the current social situation.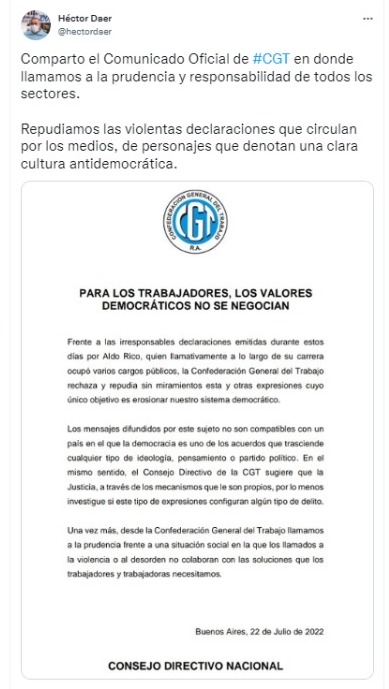 Source: Elintransigente
Disclaimer: If you need to update/edit/remove this news or article then please contact our support team
Learn more