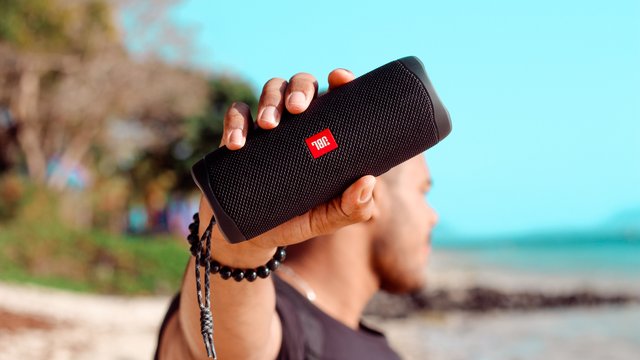 When you decide to buy a portable speaker, you may be a bit overwhelmed with all the choices. In order to choose the right equipment for you, you need to think about what exactly you expect from it and how much you want to spend on it. We have selected five mobile speakers for you for less than PLN 70, which you will take with you on vacation.
What should you consider when buying a portable speaker?

Dimensions, workmanship and sound quality, battery life and, of course, the price. In this mini-guide, we will focus primarily on the latter.
The size of a portable Bluetooth speaker

Mobile speakers differ in size, weight and shape. The smallest models can be ten centimeters long, so they are easy to carry in a purse, backpack compartment or even a large pocket. Larger models will be less handy and much heavier, which can be problematic especially when you are not going on vacation by car.
The shape of a portable loudspeaker is also an important factor in its portability. Some speakers are oblong shape more comfortable to hold in one hand, while others are more compact or round.
Some mobile speakers have features that make them easy to hold, such as straps and handles. This is especially true for larger models, but can make even a small speaker more convenient as you can hang it from a hook.
Bluetooth speaker durability

A loudspeaker at home has an easy life. It is located in an air-conditioned room, where it does not have to deal with moisture or temperature extremes. It is rarely carried. Usually remains connected to the same power sources. Portable speakers have a more difficult task. They have been designed so that they can be moved, moved and turned upside down. They are also intended for outdoor use where they can be exposed to heat, cold, dirt and moisture. This means that durable construction is a must. Look for speakers that are designed with these conditions in mind (with rounded corners and shock-absorbing edges). Water resistance is especially important. Delicate electronics can be destroyed by contact with water, which is easy to do outdoors.
Sound quality

Portable speakers also need to work well, reproducing sound without distortion or excessive noise. They also need to be loud enough to be clearly heard outdoors. Determining how good a particular speaker sounds can be difficult. The best way to judge it is to listen to it yourself under conditions that are as close as possible to those in which you will be using it. Reading product reviews carefully is of course a very important tip. A small, ultra-portable loudspeaker usually has 3W of power, which is sufficient for a small audience. If you're dreaming of a bigger party, you may need something more powerful.
Battery

Portable speakers must be able to withstand long periods of time without being plugged in. Most manufacturers promise at least 5 hours of listening music before you need to recharge the speaker. Some larger speakers can run for up to 24 hours continuously on a single battery charge.
Maybe you will also be interested in:
Source: Ofeminin
Disclaimer: If you need to update/edit/remove this news or article then please contact our support team
Learn more