Imagine a future in which the concept of vacations that you know is a thing of the past, very much of the past. Some people, tired of cruises and hotels, prefer to disconnect from their obligations and work life by traveling and enjoying themselves in a monstrous flying hotel for 5,000 passengers which is presented as an "epitome of luxury".
Welcome to the future dreamed of by Hashem Al-Ghaili, the creator of Sky Cruise. This Yemeni, inspired by the work of artist Tony Holmsten, has given free rein to his imagination to present a unique concept aircraft powered by nuclear energy and piloted by artificial intelligenceaccording to The National.
A project as extreme as it is ambitious
Al-Ghaili explains in a video posted on YouTube that Sky Cruise will feature a huge lounge with a 360-degree panoramic view. From there, guests will be able to contemplate the landscape from a unique perspective. The hotel will also have shopping centers, sports centers with gyms and swimming pools, restaurants, bars, even play areas for the little ones. And for the whole family, theaters and cinemas.
With such a variety of spaces, the creator of this concept believes that it could be a great place to organize events, business meetings and more. "If you want to declare your love above the sky, wedding halls provide you and your partner with a unique experience," he says in the promotional video. In addition, it will have a state-of-the-art hospital on board.
One of the most important points, perhaps, is that Sky Cruise will be a zero-emission flying hotel. This will be possible because it will fly with a nuclear reactor that will be in charge of making the 20 turbofan engines and will supply the necessary electrical energy for all its modules. Since it will always be running, maintenance and repairs would be done in the air.
Guests and supplies will arrive on other planes that will connect to the Sky Cruise safely, he explains. At the command level, as mentioned above, pilots will be a thing of the past. Artificial intelligence will keep you on trackbut not only that, it will also be able to "predict air turbulence before it happens" to offer a comfortable ride.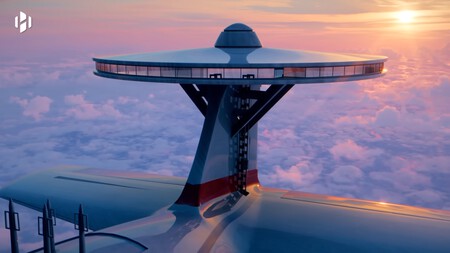 Will the Sky Cruise ever fly?
According to Interesting Engineering, Al-Ghaili believes that the current flight experience has become tedious and it's time to make innovations that change it completely. In this sense, he points out that his concept could become a reality in the 2030s or 2040s. "All we need is enough power to take off. That's why nuclear power was part of the design," he says.
However, according to the aforementioned medium, overcoming the challenges related to nuclear propulsion is only part of the equation. Let us remember that projects like the Convair NB-36H have failed completely. In addition, the idea of ​​vacationing meters from a nuclear reactor is not too tempting.
On the other hand, despite his optimism, Al-Ghaili has only focused on the design and neglects other important aspects of the project. This has divided the comments. While some celebrate his imagination, others believe the project defies the very fundamental laws of physics and aerodynamicsand that it is highly unlikely that we will ever see it fly.
In Xataka | The Saint-Malo, the largest hybrid passenger ship ever built: almost 200 meters and 11.5 MWh
Disclaimer: If you need to update/edit/remove this news or article then please contact our support team
Learn more