For three years, the Lotto-Soudal sprint train was stuck on the rails. The trio Ewan-De Buyst-Kluge was inseparable in the big rounds, but now the Siamese triplets are surgically pulled apart. "It is difficult without experience together," predicts ex-top sprinter Marcel Kittel.
Since joining Lotto Soudal in 2019, Caleb Ewan has started six Grand Tours. German Roger Kluge was by his side in as many Grand Tours. Jasper De Buyst was present in five of the six cases – only for the last Giro he had to drop out injured.
The Ewan train has been very successful in the Giro and Tour in recent years. The Australian achieved 9 stage victories (5 in the Tour, 4 in the Giro) after preparatory work by the German-Belgian pilot. The engine stalled in the last two rounds, partly due to rapid falls. So now they opt for change.
The history of the Ewan train near Lotto

| | | | | |
| --- | --- | --- | --- | --- |
| Tour 2022 | Janse van Rensburg | Vermeersch | Frison | † |
| Giro 2022 | Selig | Kluge | schwartzmann | 0 victories (statement of stage 12) |
| Tour 2021 | The Buys | Kluge | Van der Sande | 0 victories (statement of stage 4) |
| Giro 2021 | The Buys | Kluge | Oldania | 2 victories (resignation stage 8) |
| Tour 2020 | The Buys | Kluge | Frison | 2 wins |
| Tour 2019 | The Buys | Kluge | keukeleire | 3 wins |
| Giro 2019 | The Buys | Kluge | Van der Sande | 2 wins (statement of stage 12) |
Training is not enough

Reinardt Janse van Rensburg will be Ewan's new lead-out. The South African was without a team a few months ago and was only fished out by Lotto-Soudal on 1 May. He only once functioned as a pilot for the Australian sprint bomb.
Brent Van Moer, Florian Vermeersch and Frederik Frison will divide the further preparation work.
"I definitely think it's a risk to take a whole new train to the Tour," Marcel Kittel told Sporza. "A sprinter likes a fixed pattern. And certainly in the Tour you have to be able to rely on your teammates."
"You can practice the sprint train on stage, but you cannot simulate the hectic pace and everything that comes with a race. You have to test that in competitions. In the first stages it may be a bit of a search for Ewan."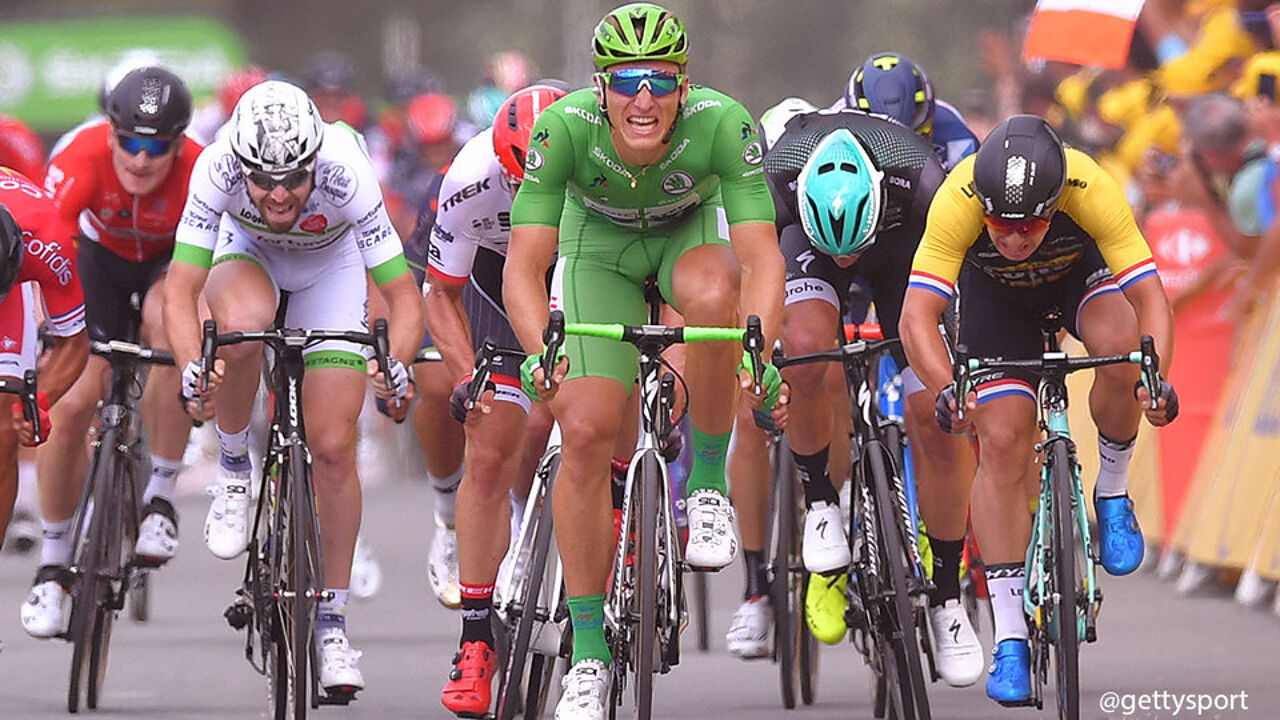 Marcel Kittel won no less than 14 Tour stages in his career.
Drop off at the last two kilometers

However, the trail means there isn't much time to search. "Winning fast is always important, but in this Tour more than ever. There aren't that many chances. In the first week there are two chances, but after that it's just a matter of waiting until stage 19," explains Kittel.
"It will be difficult, but of course it is not impossible. Ewan is good at positioning, but in the Tour you always need a little help in the super fast finals."
"Maybe he should just use his own teammates to start the last two kilometers in a good position and then do his own thing," said Kittel.
Maybe it's a factor that Roger Kluge hasn't renewed his contract with Lotto yet.
It is not entirely clear why Lotto made this choice. It is no big surprise that Jasper De Buyst is not there: he is not yet back at his old level after a collarbone and pelvic fracture. But Roger Kluge basically has no physical ailments.
"I'm sorry for Roger. Maybe it's a factor that his contract hasn't been extended yet," Kittel thinks aloud. "In any case, it is a sign that Lotto wants to change, also in the sprint train."
"If a team is not running and is in a situation like Lotto's, there is a lot of pressure and uncertainty. At a moment when you actually have to stay very cool, you are not. That is the case with the framework, but also with the riders."
| ride | date | type of ride | start-finish | total | winner | leader |
| --- | --- | --- | --- | --- | --- | --- |
| 1 | | | Copenhagen – Copenhagen | 13.2 km | | |
| 2 | | | Roskilde – Nyborg | 202.2 km | | |
| 3 | | | Vejle – Sonderborg | 182 km | | |
| 4 | | | Dunkirk – Calais | 171.5 km | | |
| 5 | | | Lille – Arenberg | 157 km | | |
| 6 | | | Binche – Longwy | 219.9 km | | |
| 7 | | | Tomblaine – La Planche des Belles Filles | 176.3 km | | |
| 8 | | | Dole – Lausanne | 186.3 km | | |
| 9 | | | Aigle – Chatelo | 192.9 km | | |
| 10 | | | Morzine – Megeve | 148.1 km | | |
| 11 | | | Albertville – Col du Granon | 151.7 km | | |
| 12 | | | Briancon – Alpe d'Huez | 165.1 km | | |
| 13 | | | Le Bourg-d'Oisans – Saint-Etienne | 192.6 km | | |
| 14 | | | Saint Etienne – Mendea | 192.5 km | | |
| 15 | | | Rodez – Carcassonne | 202.5 km | | |
| 16 | | | Carcassonne – Foix | 178.5 km | | |
| 17 | | | Saint-Gaudens – Peyragudes | 129.7 km | | |
| 18 | | | Lourdes – Hautacam | 143.2 km | | |
| 19 | | | Castelnau-Magnoac – Cahors | 188.3 km | | |
| 20 | | | Lacapelle-Marival – Rocamadour | 40.7 km | | |
| 21 | | | Paris La Defense Arena – Paris | 115.6 km | | |
Disclaimer: If you need to update/edit/remove this news or article then please contact our support team
Learn more