Public opinion on the scandal was divided into two camps: some accuse the singer of inappropriate behavior, while others believe that the commentator's act was unworthy of a man. On the Web, a screen of Tina Kandelaki's publication appeared, who allegedly reacted sharply to the situation with Buzova.
"Friends, an important message! – said in the story of the general producer of the TV channel. – Dmitry Guberniev has been punished. I made a decision that he will be temporarily suspended from "Match TV" broadcasts for rudeness. Olga was really intoxicated in our studio. But this has nothing to do with the fact that Dima's tone and vocabulary were impermissible. Olya and I are waiting for an apology from Dima. Olya will return to our air on Friday. Do not miss!".
However, it is no longer possible to find this message from Kandelaki. Users wonder: was the statement of the TV personality a reality or a fake. But Ksenia Sobchak, who is actively following the development of events, has already given her reaction to the post.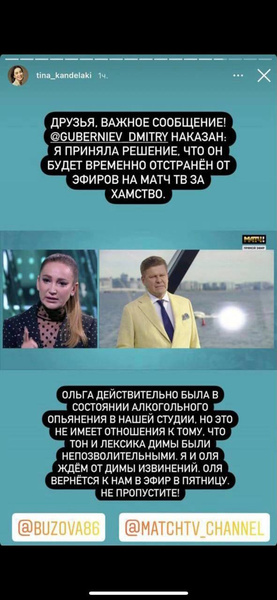 "As another football expert Tinatin Kandelaki says:" No one will humiliate a woman like another woman. " The general director of Match TV confirms that Buzova was drunk in the studio, but then erases this message. But the Internet remembers everything. How do you understand this, Tinatin? Have you scribbled too much again and got a hat from the real management of Match TV? First, we write, then we cowardly erase? "Sobchak responded ironically.
do not missDava defended Olga Buzova after she burst into tears on Match TV
Soon there was a response from Kandelaki herself. The 45-year-old TV presenter announced that her post was brazenly fabricated and had nothing to do with the truth. "To check the authenticity of a particular story is a matter of one call or message to my PR specialists. And the Internet, as you know, remembers everything. If you want to see the cache of my Instagram – let me know. Of course, you will not find anything like this there. Well, I do not recommend hyping on the story "Olga Buzova vs Dmitry Guberniev" damaging Match TV to anyone. It is not difficult to find the culprits, just as it is not difficult to bring them to justice for spreading fakes, "the journalist said.
https://www.youtube.com/watch?v=otaIWkgaG2A
Photo: Legion-Media, social networks
Disclaimer: If you need to update/edit/remove this news or article then please contact our support team
Learn more