According to one of the anecdotes doing the rounds in the wake of the death of the Duke of Edinburgh, so offended was he by the construction and design of the Scottish Parliament, less than a stone's throw from Holyrood Palace, that he planted a rather enormous tree in the grounds, so he didn't have to look at the place.
His disdain would perhaps have been slightly mollified when the motion of condolence speeches read out in the chamber today lasted just 22 minutes and 30 seconds.
MSPs are not known for keeping it tight when there's pontificating to be done, yet the five party leaders rattled through their sympathies at a speed with which Prince Philip would surely have approved.
Read More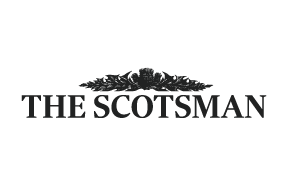 Read More
Prince Philip: MSPs pays tribute to Duke of Edinburgh
Party leaders in Holyrood have expressed their condolences after the death of the Duke of Edinburgh.
Goodness knows what he'd make of the planned eight hours of tributes in Westminster. A salty word or two may well be being uttered at the pearly gates.
Sombre in tone and clothing, MSPs were recalled to Holyrood to pay their respects from the colourful circus of the election trail – though they still used their brief speeches to score the odd political point.
There was feminism from the First Minister, who praised the Duke's long years as consort to the Queen, a man faced with the "challenge of being the husband of a powerful woman at a time when that was even more of an exception than it is today".
There was deference from Ruth Davidson, who saluted his naval career, his time as Chancellor of Edinburgh University and his work with 800 individual charities – "to have achieved all of that while undertaking your greatest job and duty to be partner friend and confidant for 73 years to the monarch is a life of remarkable public service".
And there was republicanism from Patrick Harvie, who admitted his party had grappled with taking part in the debate at all, but had decided, ultimately, that it was the right thing to do in a "year of terrible loss for the world".
The Labour benches had hoped that while recalled, the Parliament could also debate the recent statement by health secretary Jeane Freeman about the mistakes made during the Covid crisis, which led to the deaths of thousands of elderly people in care homes.
The Presiding Officer may have said no to that idea, but Anas Sarwar used the words of the Duke of Edinburgh about his scheme for young people to speak of the pandemic.
Mr Sarwar said: "When Prince Philip launched the awards in 1956, he said 'if you can get a young person to succeed in any one activity, then that feeling of success will spread over into many others'.
"Following the difficult year faced by so many young people, with their lives and their learning disrupted by Covid, Prince Philip's words from 65 years ago are just as relevant today – and a reminder of the collective national mission we face in the years ahead to make sure every child fulfils their potential."
It was left to Willie Rennie to add a moment of levity. He had met Prince Philip on a day he was sporting a prostate cancer badge on his lapel. "Have you got it or are you against it?" the Prince demanded to know.
That was it. Proceedings closed. Campaigning begins again tomorrow.
A message from the Editor:Thank you for reading this article. We're more reliant on your support than ever as the shift in consumer habits brought about by Coronavirus impacts our advertisers.
If you haven't already, please consider supporting our trusted, fact-checked journalism by taking out a digital subscription.
Disclaimer: If you need to update/edit/remove this news or article then please contact our support team
Learn more